Any morning is special when you get to make Monkey Bread, especially when you get to share it with your family!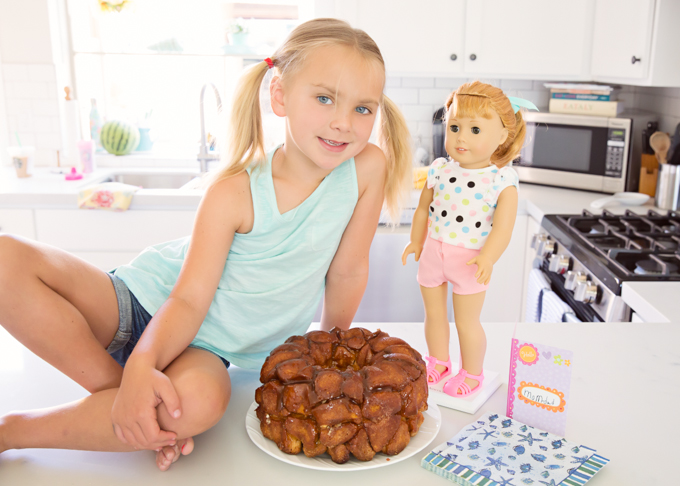 When my Nana is in town, I almost always get to have a sleepover, and this time was no exception. We got to go to Michaels Craft Store and do a craft. It was so much fun! I'll post that soon. In the meantime, I'll tell you about the Monkey Bread we made.
I really wanted to make it after dinner, but Nana knew that we'd both eat WAY too much of it if it was just her and I at the condo. So, she said we had to wait until the next morning and that we'd have my mommy, daddy, and brother over to share it with. My baby sister came too, but we only gave her a taste. My baby sister is nine months old. They all loved it, especially my Daddy!!
It was really fun to make and even more fun to eat!
Here's what you need: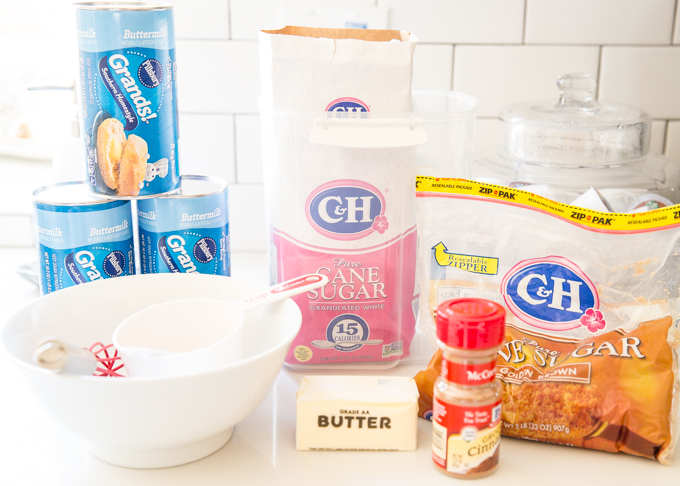 To make, you start by popping open the biscuits! I love banging the can on the edge of the counter and hearing it POP open! After it's open, you separate the biscuits and cut them into 4 pieces. Be careful using a knife!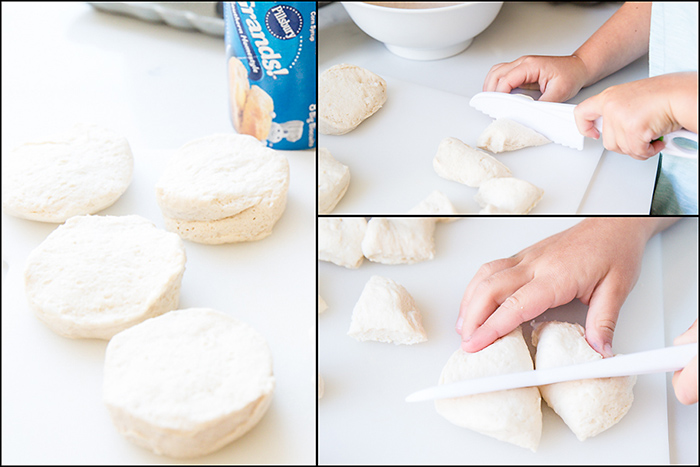 Then you mix up some cinnamon sugar and roll the little pieces of biscuits around in the sugar.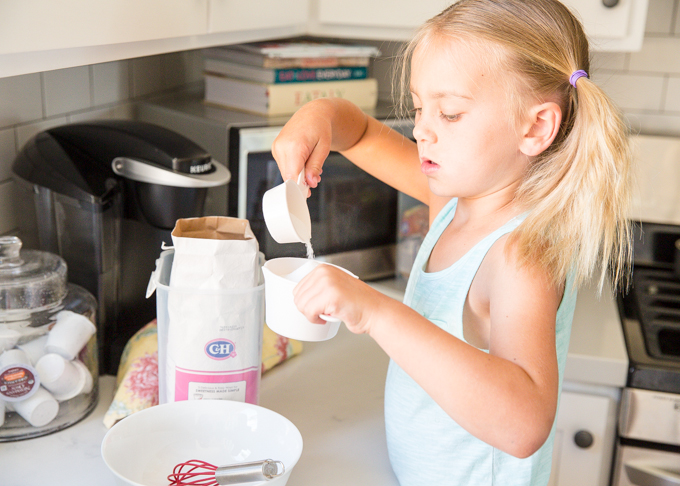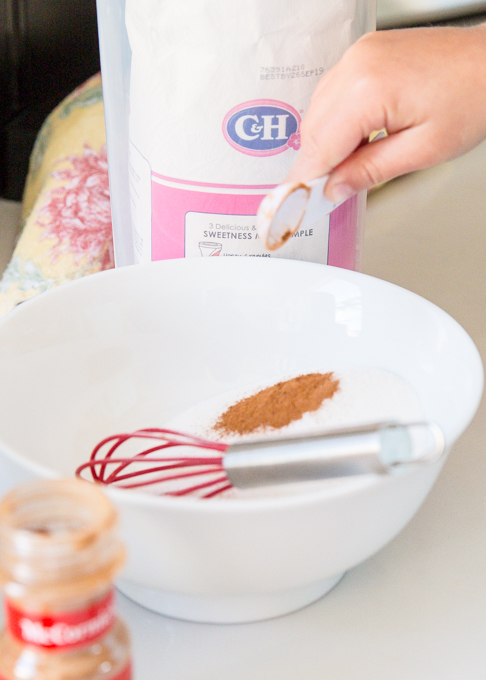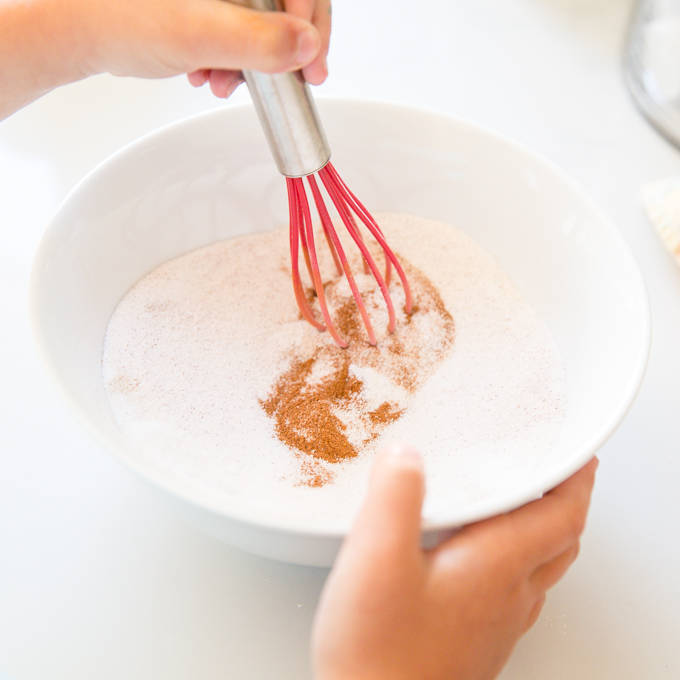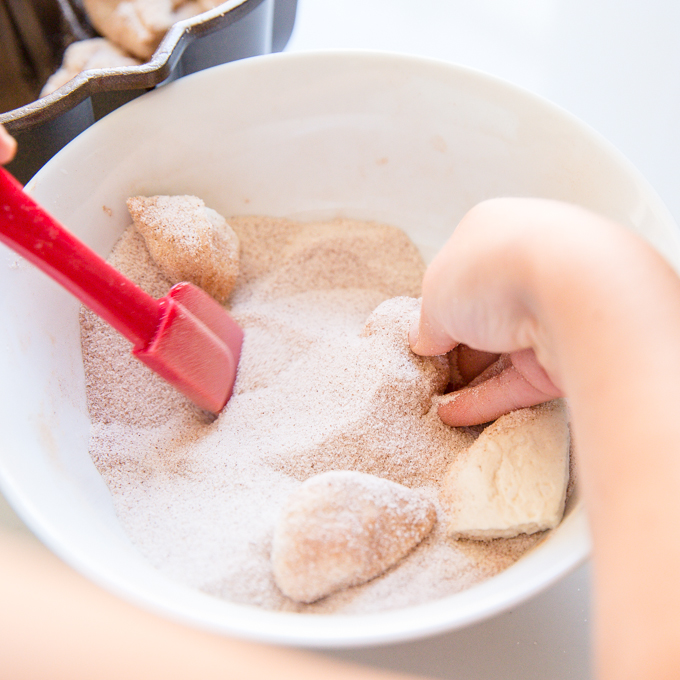 Next you put them into a bundt pan that has been sprayed with Pam.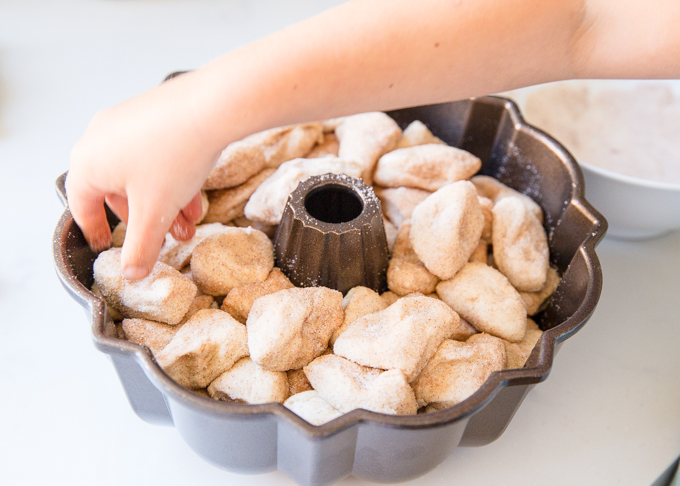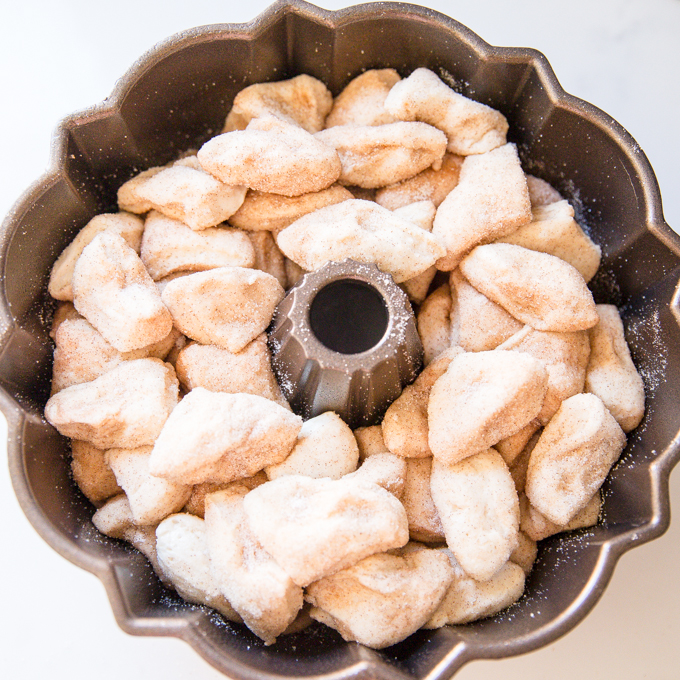 They're almost ready for the oven, but not quite. Here comes the best part… butter and brown sugar get cooked together and make a caramel syrup. Nana had to do the cooking, because it got really hot!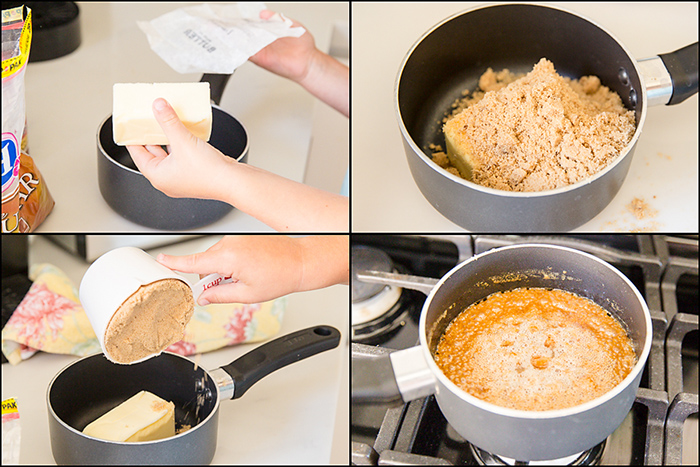 Next pour the caramel sauce over the sugar rolled biscuits.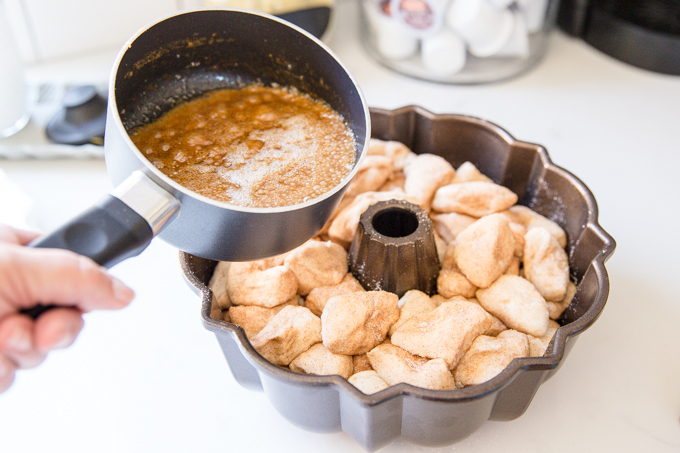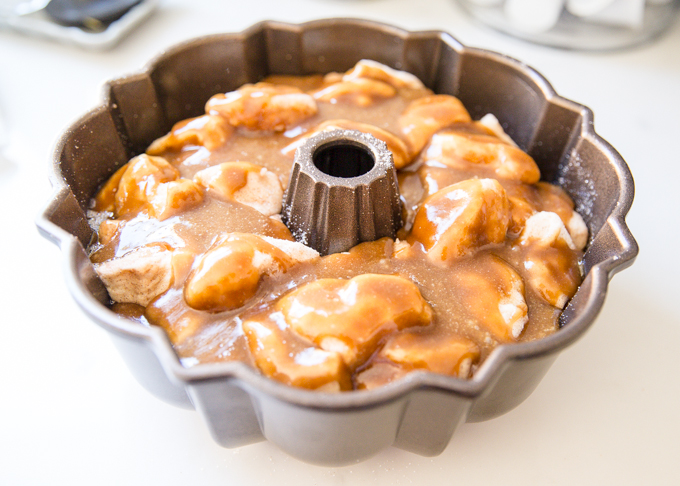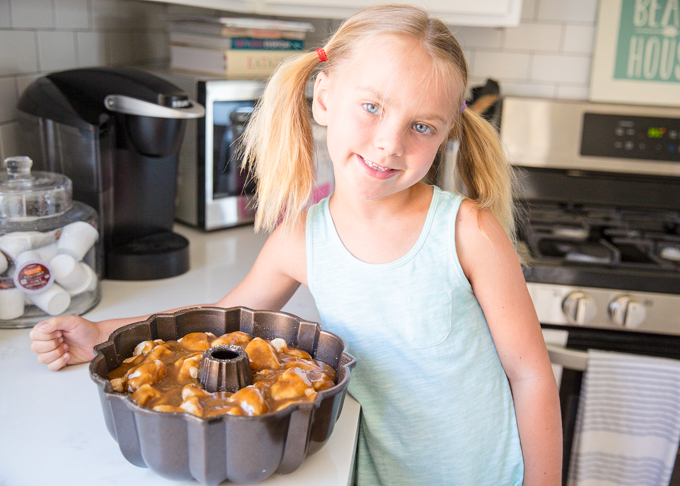 And now, into the oven. When these were baking, I played with my American Girl dolls and she helped me set up for our breakfast party. We got out some cute napkins and got the coffee and hot chocolate ready to serve for our breakfast party!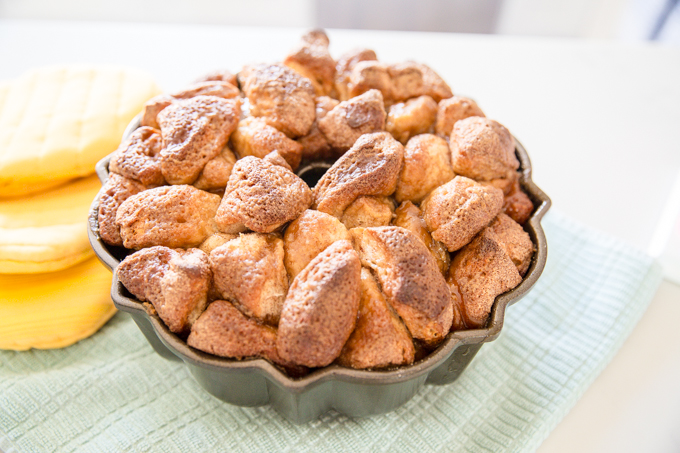 Here they are baked, but just wait until we take them out of the pan….. It's kind of like magic, all the gooey caramel is mixed in everywhere!!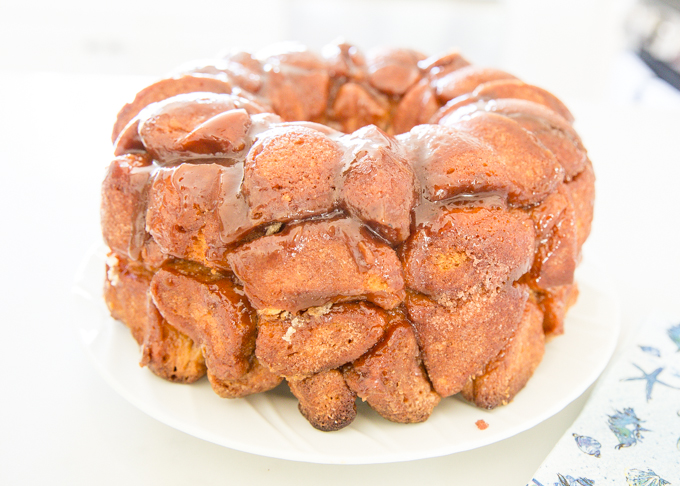 I just couldn't wait to try them! They were really hot, but I snuck a small taste!!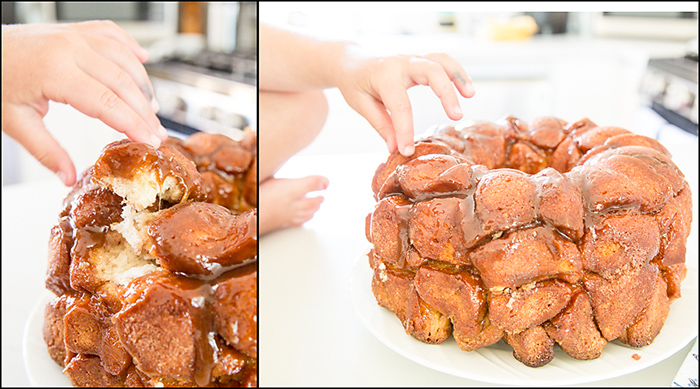 Oh, no, here's my brother!! Photobomb!! He's kind of goofy, but I love him!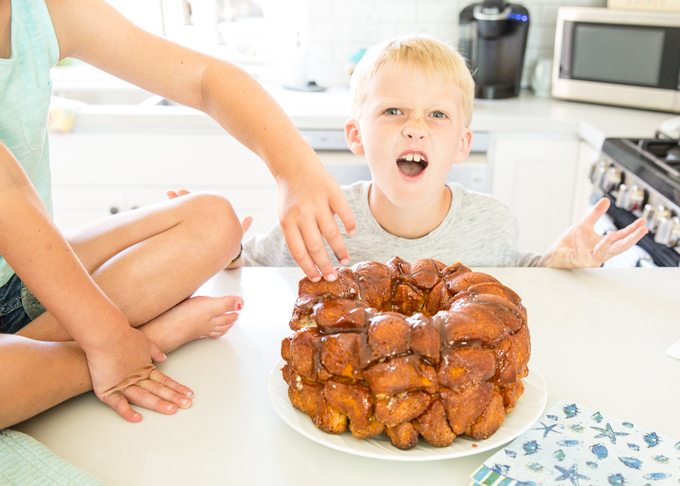 Before we served them, I had to get one picture with my doll, MaryEllen.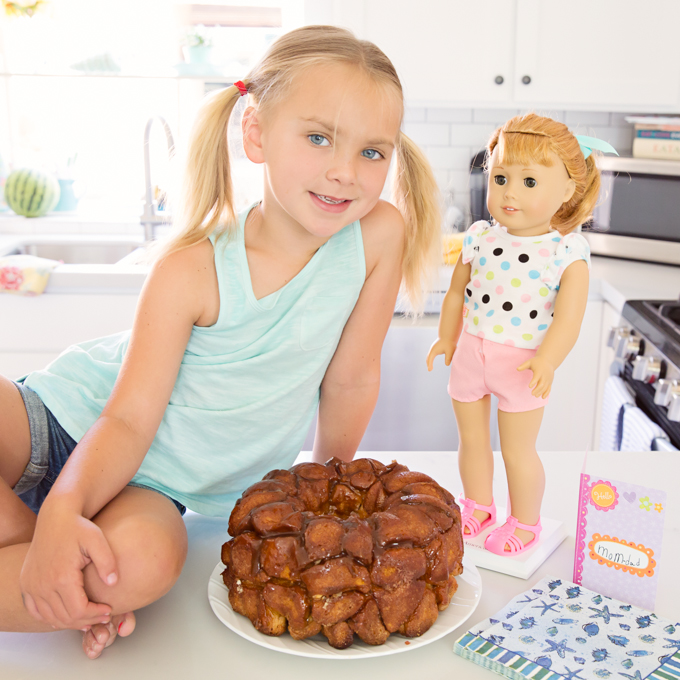 Everyone was waiting outside on the patio with their coffee (B and I had hot chocolate), and I got to bring the Monkey Bread out.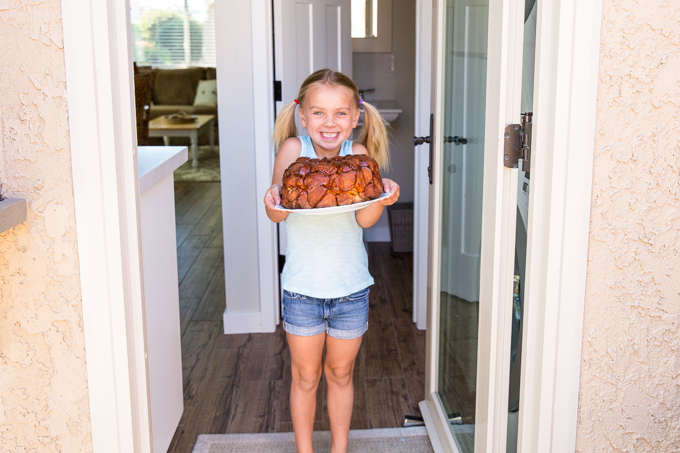 I was pretty excited, can't you tell?? And guess what, everyone loved my Monkey Bread!!!
Gigi Bean says: "Mmmmmmm! This was bulishis. Who said that? I did. That wus me, Gigi. Bilishis muncky dreb!
Nana translates: Mmmmm! This was delicious. Who said that? I did, that was me, Gigi. Delicious Monkey Bread!
Maybe by the next week, Gigi Bean will get her "d's" and "b's" figured out 🙂
Monkey Bread
Ingredients
3

cans refrigerated biscuits

jumbo biscuits, like Pillsbury Grands

1

cup

sugar

2-3

TBSP

cinnamon

1/2

cup

real butter

1

cup

brown sugar
Instructions
In medium sized bowl, whisk together sugar and cinnamon. Set aside.

Open the biscuits and using a knife or clean kitchen scissors, cut each biscuit into quarters.

Roll biscuit pieces in the cinnamon sugar mixture until well coated.

Place biscuit pieces into a well greased (I used baking spray) bundt pan.

In small saucepan over medium heat, add butter and brown sugar. Stir often until mixture is well blended, sugar is melted, and mixture begins to boil.

Pour brown sugar mixture over biscuits in bundt pan.

Bake in preheated 350* oven for 35-40 minutes.

Cool about 10-15 minutes and carefully invert onto large plate.

Enjoy!