These St. Patrick's Day Oreos were so fun to make and delicious! Dipping them in green chocolate melts and topping with fun sprinkles makes them a perfect after school treat or dessert!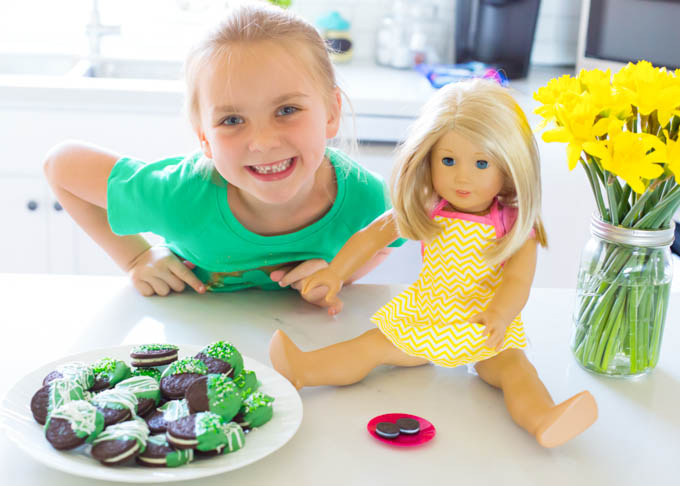 I'm so excited that I finally have a blog! I love cooking and baking with my Nana and I really really love playing with my American Girl Dolls. How cute are her little oreos? If you read my "about me" page, you'll see that I have two American Girl dolls and lot's of accessories. This is Rosie, she was the first doll I got. We look alike with our blonde hair and blue eyes! A lot of my accessories are from the American Girl Doll store, but I also get a lot of them from Target. They have Our Generation Dolls, which is their version of American Girl. All of the OG (Our Generation) clothes and accessories fit and work perfectly with my AG (American Girl Dolls). I love everything about both of them! These little Oreos, seriously look EXACTLY the same as the real ones!
To make these fun treats, you need these ingredients…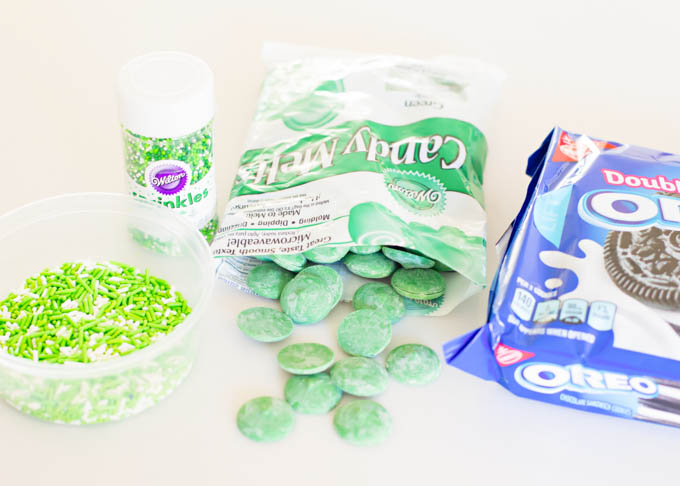 Here's how we made them…
First we melted the chocolate (have a grownup help you).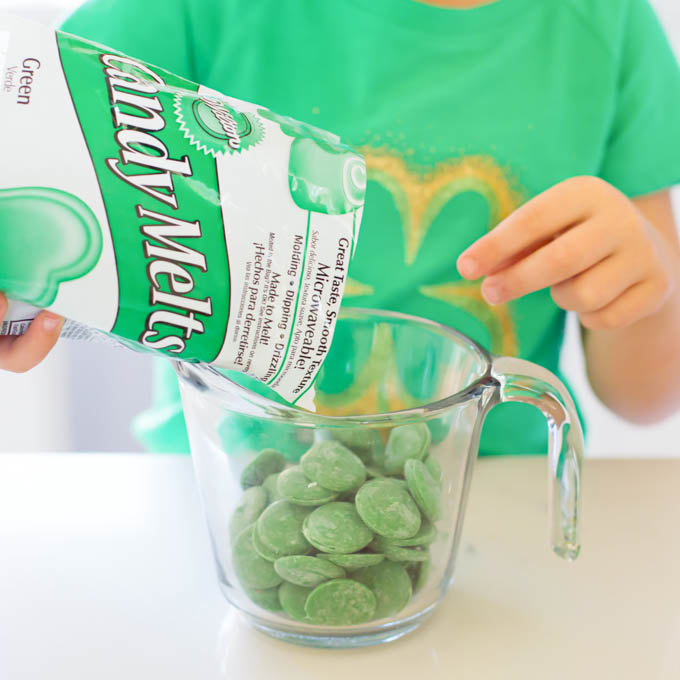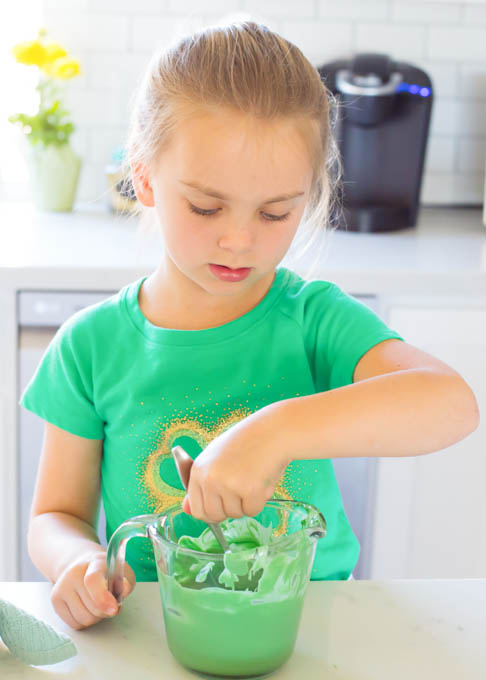 Then, we got the Oreos ready…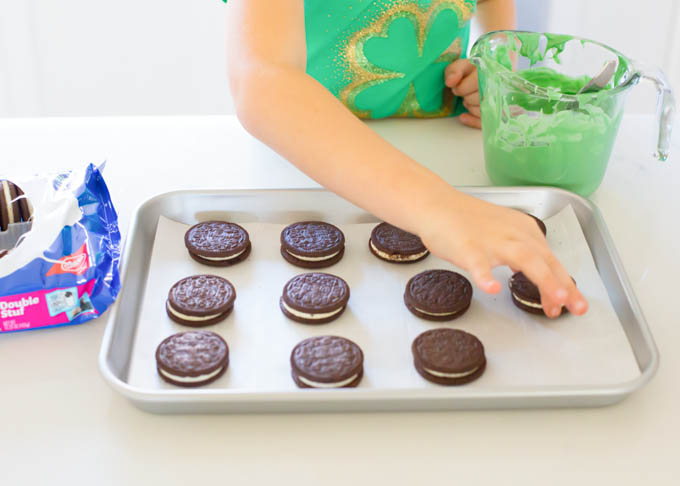 We dipped them one by one…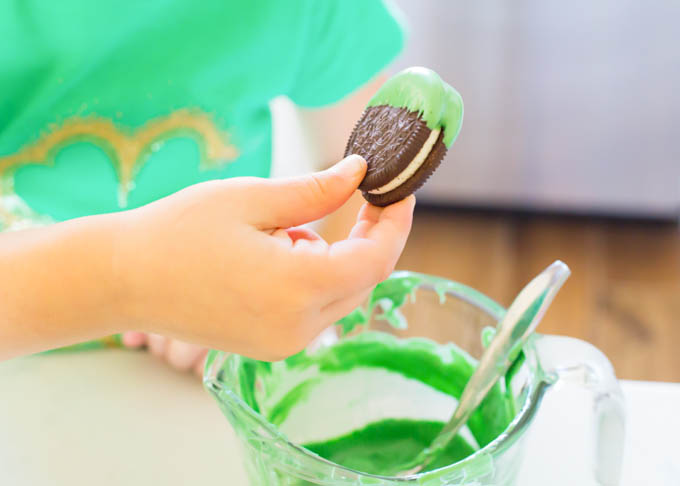 And sprinkled them…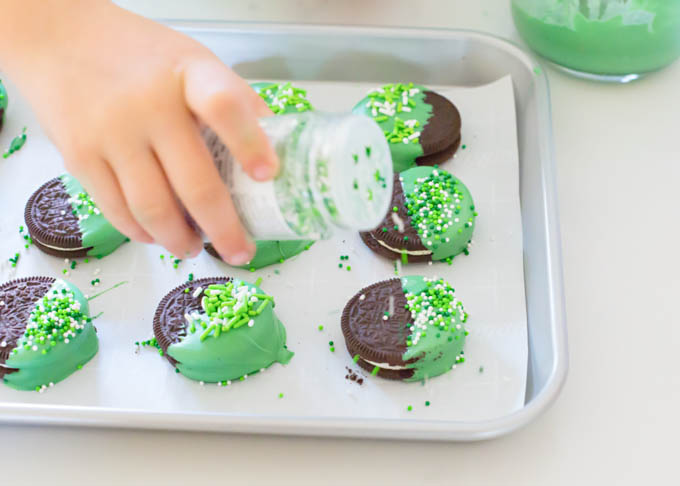 And then…
Oh No!!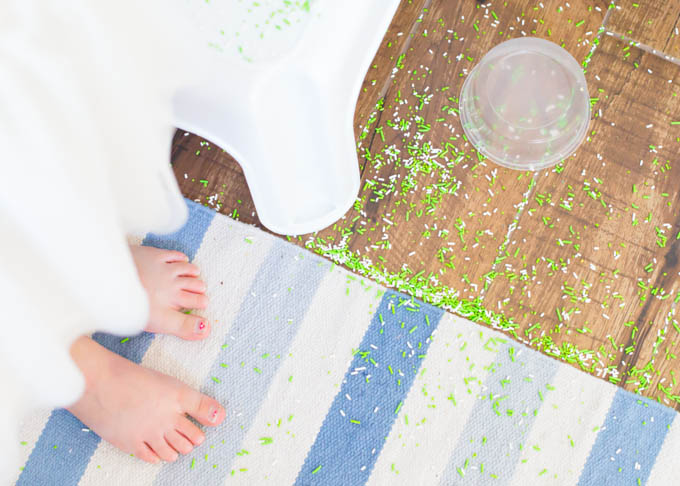 I knocked all the sprinkles off the counter and onto the floor. My Nana said this was a good test of patience, and I agree! I wanted to keep on decorating, but it took a while to clean up all the sprinkles!
Since I didn't have any more of the sprinkles, we decided to pipe on some white squiggles. I was going to put the little dot sprinkles on these, but they didn't stick very good so we left them with just the squiggles.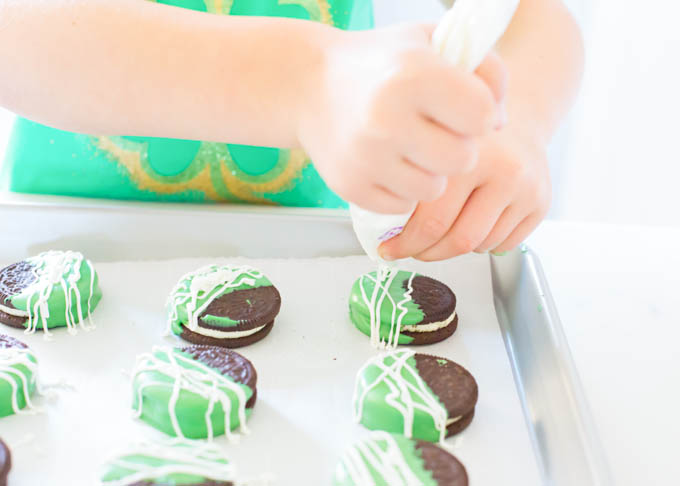 Finally we had them all done!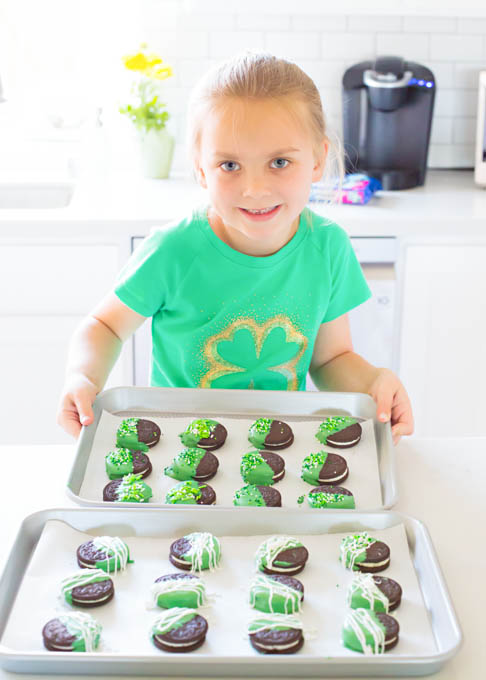 Rosie and I got to enjoy one for a treat!! They were really good!!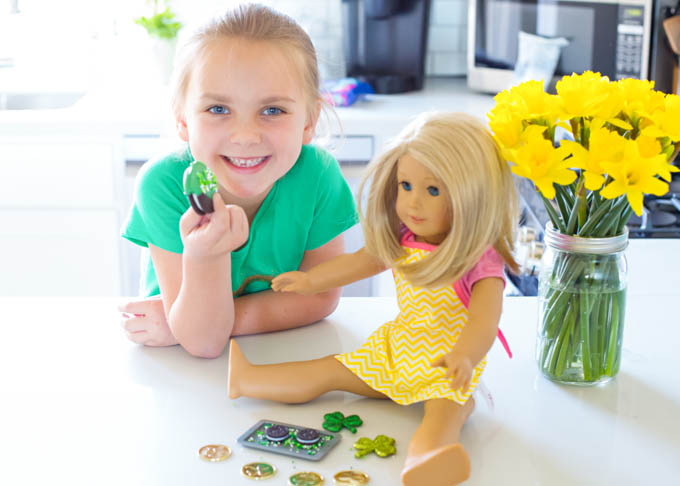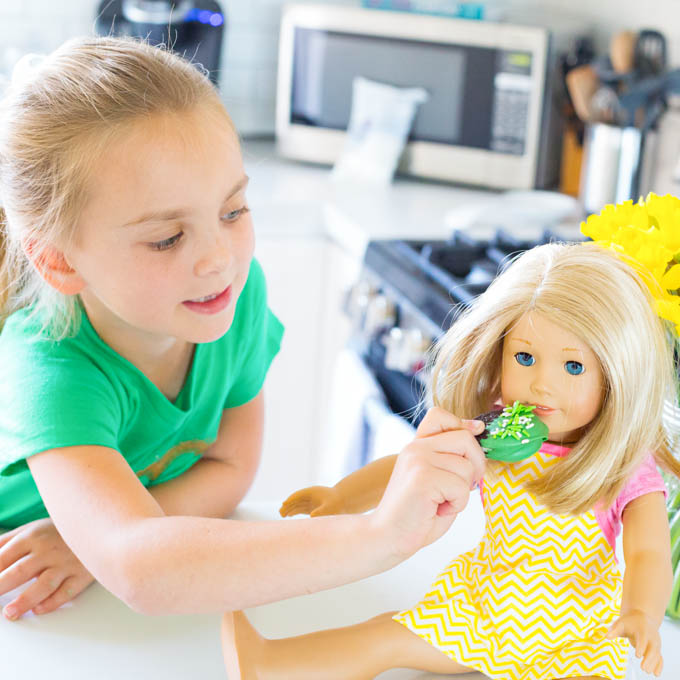 Gigi says: "It was fun. It was fun becuse they were riily yumy! My doll has miny ooryow cookeas!"
Nana's translation: It was fun. It was fun because they were really yummy! My doll has mini Oreo cookies!
St. Patrick's Day Oreos
Ingredients
1

pkg Double Stuffed Oreos

or regular

1

bag Wilton's Candy Melts

green

1

bag Wilton's Candy Melts

white, optional for squiggles

1

TBSP

coconut oil or vegetable oil

Sprinkles of choice
Instructions
Melt candy melts according to package directions. We did ours in 30 second intervals in the microwave.

Stir until smooth.

Add a little coconut oil to thin (if needed)

Lay oreos on parchment lined cookie sheet.

Dip oreos, one a time in melted choccolate (dip it half way).

Lay dipped oreo on cookie sheet and top with sprinkles.

Let chocolate harden and enjoy!
Sorry for the photo overload, but we were really excited to get this first post to you 🙂